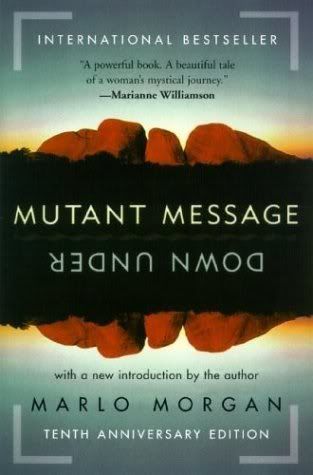 Mutant Message Down Under
By: Marlo Morgan
ISBN 0060723513 (9780060723514)
Summary from GoodReads
:
Mutant Message Down Under is the fictional account of an American woman's spiritual odyssey through outback Australia. An underground bestseller in its original self-published edition, Marlo Morgan's powerful tale of challenge and endurance has a message for us all.
Review
:
Summoned by a remote tribe of nomadic Aborigines to accompany them on walkabout, the woman makes a four-month-long journey and learns how they thrive in natural harmony with the plants and animals that exist in the rugged lands of Australia's bush. From the first day of her adventure, Morgan is challenged by the physical requirements of the journey—she faces daily tests of her endurance, challenges that ultimately contribute to her personal transformation.
By traveling with this extraordinary community, Morgan becomes a witness to their essential way of being in a world based on the ancient wisdom and philosophy of a culture that is more than 50,000 years old.
This book can somewhat be summed up by the four quotes at the beginning of the book:
Man did not weave the web of life, he is merely a strand in it. Whatever he does to the web, he does to himself.
-American Chief Seattle

The only way to pass any test is to take the test. It is inevitable.
-Elder Regal Black Swan

Only after the last tree has been cut down. Only after the last river has been poisoned. Only after the last fish has been caught. Only then will you find that money cannot be eaten.
-Cree Indian Prophecy

Born empty handed, Die empty handed. I witnessed life at its fullest, empty handed.
-Marlo Morgan
This book is a little dry at first and jumps a little but I think that is to get you into the feel of the woman's view (since it is written in the first person) as well as give you the experience as she is having the experience. As she moves from the "Modern" view to the view of the "Real People" you really see the differences in the mindset so much so that the "Real People" call her a Mutant.
This book had a lot of messages in it for us mutant folk such as we need to care for our planet for it is alive and we are alive through our connection to it and the Oneness. It also showed the reader that if you really need something you ask for it and if it is in all goodness for all it will occur, for instance when the "Real People" needed food they asked the Oneness for it and it would cross their path if it was for the good. The "Real People" also believed in personal rights (such as the right to die when you know its time).
This was a very, very thinking intensive book that is a little new agey but not in a bad way that it doesn't make sense. This book also too the adage "walk a mile in someone else's shoes" really far and I think more people a world of good. I would definitely say this is a must read for anyone that believes the future is what you make it.
Overall, I enjoyed this book. It gave beautiful imagery of Australia. The characters are interesting. The flow of the book is a little slow but if it was any faster you would lose sight of the lesson. However I felt the writing itself left a lot to be desired. Personally, I was expecting a little more excitement from someone experiencing this once in a lifetime chance. The entire time the writing felt like she was dragging her feet but the story itself was not. Thankfully, the writing didn't ruin this unbelievable and enjoyable story. Thus giving this book a rating of two.
Note: This book was reviewed as a fictional memoir. If you see other reviews they will mention the confusion between reality and fiction. Real Australia is not this way etc. I however did not let this stop me from reading this or trying to find the kernels of wisdom that were within it's pages. So it is up to you if you would like to read this knowing it's a fiction or if you like to set it aside because its fiction held up as non-fiction. I would also like to point out it is a banned book in Australia due to its offensive, sacrilegious, racist, inflammatory nature, etc. So I would not recommend buying this book. I borrowed the book for this review from the library.