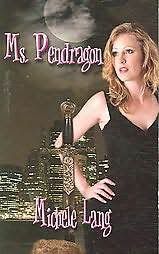 Ms. Pendragon
By:
Michele Lang
ISBN: 1933874368 (9781933874364)
Series: The Sacred Circle
Ms. Pendragon
Uptown Avalon (Coming soon)
Summary
from
Google Books
:
Gwen is a high-powered New York attorney, who finds herself summoned back to Camelot by Merlin to fulfill her destiny. Both Lancelot and the evil Mordred stand in her way, but that's nothing in comparison to the complicated feelings she encounters with her ex-husband: Arthur.
Review
:
I have nothing but good things to say about this book. It is an excellent retelling of the original story. Michele Lang brought the past familiar characters into characters we know in the here and now. She also modernized the story through her changes of their names, mannerisms that are both old and new, as well as giving them modern jobs. The fact that she made Gwen a lawyer was particularly amusing. As far as these new characters compared with their older counterparts, Michele Lang made them stronger and more rounded.
In regard to the way she writes, she is awesome! She drops you in the her world and has you learning about it as the characters do. This is definitely one of the most important elements of any book, if you can't feel for the characters than the story is hollow. You will love and hate some of the characters. Her humor is deadly! Be prepared for strange looks when you laugh out loud.
When I finished this book I was craving the next!
You will need to know how this story ends.
Overall this book gets a 5.