Second Chance
By: Sandra J. Gerencher
ISBN: 978-0981461922
Summary
via
Tribute Books
The timeless tale of a boy (with autism) and his (shelter) dog. Over the past 10 years, author Sandra Gerencher has been on a mission to save dogs from high-kill animal shelters. Her first rescue was P.J., the black and white Pomeranian in the story. She also adopted the orange Pomeranians Shelby and Lil Rascal, and of course, Chance, the big black Rottweiler/German Shepherd mix. All characters in the story are based on Sandra's real life family. The book is filled with softly blended watercolor photos of her loved ones. Her most significant adoption was her son, Terry. He was considered a special needs child because he was born with a genetic disorder known as Fragile X Syndrome. The disorder can cause many cognitive disorders, such as autism, attention deficit hyperactivity disorder, mental retardation and depression.
Review
This book allows for a through understanding of not only adoption for children and animals but talks about special needs children in the system. As I mentioned earlier in my review of
Red In The Flower Bed
I have next to no background on the subject of adoption but I am also in the dark about autism. This book definitely shed light on both subjects in a completely different way than the previous book in that it goes more into detail in words instead of with pictures. The pictures themselves are pretty and add to the story but are not necessary to the story like in
Red In The Flower Bed
which is good for older kids.
The way the author uses the dog's story to explain what constant shifting in early childhood is like, is amazing. As Chance showed, going to your new family to get answers to the many questions one has brings you closer together and helps you learn new things about one another. I think that is a great message for anyone entering a new home with a new family.
Second Chance
is a great book for a child learning to live with a new autistic family member or if they are an adopted child themselves. This book is equally good for children with new pets and how to explain what shelters are and how to acclimate to having a pet. Due to the clear and curious way of storytelling I am pleased to give this book a four. You can learn more about this book, and the author and her family above by following the links above. Happy Reading!
About the Author: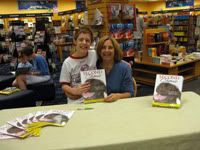 Sandra J. Gerencher Biography
via Tribute Books:
Sandra J. Gerencher is a special education teacher in the Bangor Area public school system. Prior to becoming a teacher, she worked at Lehigh University in a school-based program, as a Program Specialist for adults with disabilities. Over the past 20 years she has worked with children and adults with special needs in such areas as counseling, Behavior Specialist Consultation, behavioral research, crisis intervention and abuse therapy. Sandra graduated from Lehigh University with a M.Ed. in Special Education (2004) and from Chestnut Hill College in Philadelphia with an M.S. in Counseling Psychology (1999).

PBS Kids Recommended Title Award