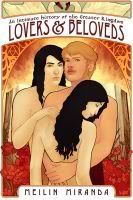 Lovers & Beloveds
By: MeiLin Miranda
ISBN: 978-0981307176
Series: An Intimate History of the Greater Kingdom
Lovers & Beloveds
Son In Sorrow
This book is for people eighteen and older ONLY!
Summary
via Smashwords
Haunted by his mistakes, naive Prince Temmin must confront the intimate history of his ancestors and decide between the direct, pragmatic path to power offered by the King, and the more spiritual path of the Lovers' Temple. With the help of his family's immortal advisor Teacher, Temmin must make his choice. One will lead to ultimate glory for Tremont, the other to its end, but which one is which?
Review
:
If you are looking for a delightful romp through a complex fantasy world you will enjoy this book. What first drew me to this book was it's description which was reminiscent of Jacqueline Carey's
Kushiel Series
. However I soon discovered that although it has some similarities, they are very different in many more ways.
MeiLin Miranda's storytelling is very multi-faceted in what it presents which is a mix of political intrigue, a different kind of love story and a coming of age story. The main character is Temmin and through him we are slowly introduced to the world of
Lovers and Beloveds
. In the first part of this story we are privy to his first steps into adulthood, however he still maintains the naivety of childhood. Temmin's naivety and child-like composure at first makes many of the characters and some of the story very flat but as he grows so does our awareness of the characters and the world around him. I love the subtlety of the story's progression but at the same time it isn't slow either. The constant trials that face Temmin in the form of his family, his mentor, his kingdom, and his heart keep this book in constant motion with a spectacular ending.
The romance and eroticism of this story is extremely well written. What makes this especially unique and fantastic is that the differences between love, intimacy, and sex are very well gone over but it is not sex scene after sex scene. Through the Lovers Temple Temmin learns the differences and finds several things he didn't expect to find. One of the big things I really appreciate in good sex scenes is the use of language which when done right really makes the scene that much better. MeiLin Miranda walked the fine line and managed to neither be crude nor overly prudish. Another thing I enjoyed was the fact that there was something in the sex scenes throughout the story for everyone regardless of your sexual orientation. That in and of itself is a great feat for any author, and as I mentioned earlier MeiLin Miranda went a step further with her great use of language.
All together this book is an exciting look into things we all go through in one way or another, be it intrigue, love, sex, intimacy, and the road to maturity. I would recommend this book to anyone who enjoys fantasy with eroticism thrown in. Due to the uniqueness of MeiLin Miranda's approach to love, intimacy, and sex as well as the enjoyable fantasy world I happily give this book a four. I received this book originally from the author in ebook format but I enjoyed this story so much that I am picking up the paperback version and looking forward to the next book in this series.