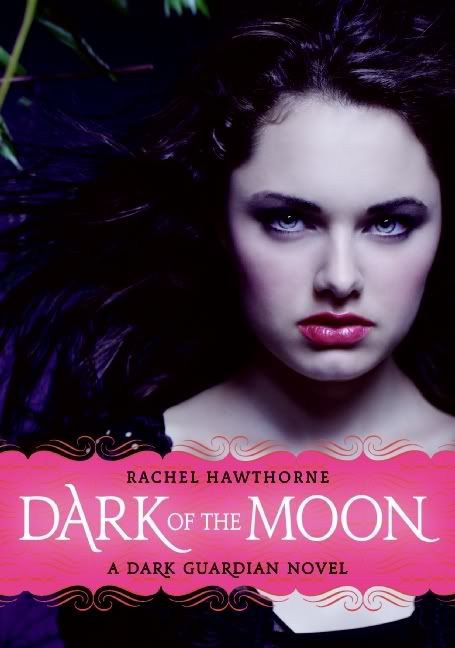 Dark Of The Moon
By: Rachel Hawthorne
ISBN: 0061709573 (9780061709579)
Series: Dark Guardian
Summary
from
GoodReads
:
I've loved him forever, but he can never be mine.

Brittany is determined to prove herself to the Dark Guardians. And yet she's been keeping a devastating secret: She hasn't experienced any of the intense, early signs of change that mark a Dark Guardian's transformation. The only intense feelings she has are for Connor—and she's kept that a secret, too. But she knows she'll never truly have Connor's love if she's not a Shifter like him.
At the first full moon after her birthday, her greatest fear is realized: She doesn't transform. Brittany is so desperate to become a wolf that she'll go to extremes she never thought possible . . . and put all the Dark Guardians in incredible danger.
Review
:
This was a really great book. Rachel Hawthorne is really starting to fill out her new Shifters story with this addition. Up until now we have seen this universe through the eyes of someone who was completely new to the Shifter culture, and two that have been apart of it all their lives. I expected a similar book to Lindsey's because Lindsey and Brittany both grew up in the same world but Rachel Hawthorne continued to surprise me. Although the characters are similar in many ways, their distinctions were clearly marked if subtle. Seeing the world through a more girly point of view in Lindsey and Kayla was a little gag inspiring for me because like Brittany, I enjoy other things. Seeing things with Brittany's eyes things were more from that of a warrior's standpoint and the more clear cut in the battle scenes while the emotional things she clearly had little control. The other girls were more sure (yes, even Lindsey) of the emotional battles than actual battle.
The conflicts faced in this story are reminiscent of Kayla's but in reverse. In a way Rachel Hawthorne actually made her story more real, more possible because instead of making Brittany's story some convoluted mess she found reasons that to the reader would be believable and relatable. Another subtle way in bringing all the stories together is that in the first two books we come to see Brittany as a part of the group but also very separate. What is great though is that through all Brittany's trials she finally is no longer separate in her difference but rather an asset in it when facing Bio-Chrome.
We also find out a lot more about the Shifter culture in this book. I like how she answers the unknown questions that were left hanging in the previous book and bringing more depth with new questions. We also get to see the lengths that they will go to for those that are their own and the amount of love they have for each other not just between mates but between all those at Wolford.
Overall, the enjoyment I got out of hearing Brittany's story, the complexity of this story, and the way Rachel Hawthorne wove her characters and their stories this story receives a four.