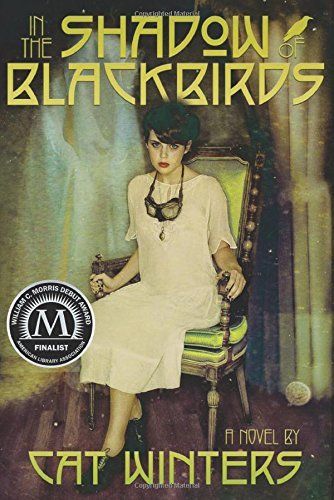 In The Shadow Of Blackbirds
By: Cat Winters
ISBN: 978-1419710230
Summary
via Amazon:
In 1918, the world seems on the verge of apocalypse. Americans roam the streets in gauze masks to ward off the deadly Spanish influenza, and the government ships young men to the front lines of a brutal war, creating an atmosphere of fear and confusion. Sixteen-year-old Mary Shelley Black watches as desperate mourners flock to séances and spirit photographers for comfort, but she herself has never believed in ghosts. At her bleakest moment, however, she's forced to rethink her entire way of looking at life and death, for her first love—a boy who died in battle—returns in spirit form. But what does he want from her?
Featuring haunting archival early-20th-century photographs, this is a tense, romantic story set in a past that is eerily like our own time.
Review
:
Heartbreakingly tragic and hauntingly beautiful. There are no other words that better describe
In The Shadow Of Blackbirds
. This novel will stick with you long after you are done reading it. So many of the... themes, for lack of a better term, are so timeless. War. Soldiers, going to and returning. Their families desperate for news, while still fearing it. People being struck down by an illness that no one knows how to prevent or combat effectively. Reaching maturity in a time of great upheaval and disaster. A country fighting within itself to show how patriotic they are, out of fear. Death in its many forms. And most of all, the soul-sucking desperation that is impossible to not feel.
I would describe Cat Winter's writing style in this novel to be visually stark and vividly emotional, a perfect representation of the world as it was in 1918 during World War I. If it were a movie, it would be filmed similarly to
Saving Private Ryan
(although that story took place in WWII). Where the world is incredibly detailed but almost monotone and the characters stand out in bright relief. The characters themselves also seem to be almost a personification of the hardships the people of this era endured. Mary Shelley is the science vs spiritualism debate. Mary Shelley's father would be the fanatical patriotism. Aunt Eva would be the pandemic as well as women's efforts during the war. Stephen the young soldiers and shell shock/PTSD. Julius, opium and the fake spiritualists. The Red Cross home, the welcome home given to injured soldiers. These are only a few but there are many as you will see.
In no uncertain terms, this isn't a light read. And, once you start reading it, you will have to finish. For although, many of the themes are heavy there is a certain lightness to it as well. You will see a depth of compassion, love, and inquisitiveness that brings this story into a tale of great beauty.
The romance in this story is the driving force behind Mary Shelley and her coming of age story. Through her you see the ups and downs of being in romantic love with Stephen as well as familial love for her mother, father, and Aunt Eva. The emotional roller coaster that is Mary Shelley and Stephen's love is reminiscent of Romeo and Juliet. I would say it's worse than Romeo and Juliet because there is more to it than the passing fancy of fourteen year olds. They were childhood friends turned more. However, they were cut off before their love could truly bloom by the upheaval of the times.
The ongoing mystery in this novel is also quite good! While I had inklings as to who was involved, I was only partially correct, and up until the very end I couldn't guess how exactly things had occurred. It has been a good long while since I have been so stumped. Granted, I may have been slightly distracted by the love story, but who could blame me.
In many ways, it was almost painful to read this book. Not because it was a bad book, rather because it was so good. I easily give this book a five! The setting was detailed and made the story come alive. The characters were remarkable and pulled at the heartstrings. And it's timeless. It reverberates with this time period so well it's spooky. While we have many modern conveniences and medicines. These things are merely illusions. We are no better off than they were. They allow us to hide our heads and say we are better, while just as they were, we pray we aren't next. We call each other unpatriotic based on whether you are a democrat or republican. We send our men and women to war but we don't care for them when they return. Disease reigns supreme, with no cures, only symptom relief. We are reliving history instead of learning from our pasts and making the world a better place. So hopefully, like in this book we will see the light at the end of the tunnel, dust ourselves off and strive for better.