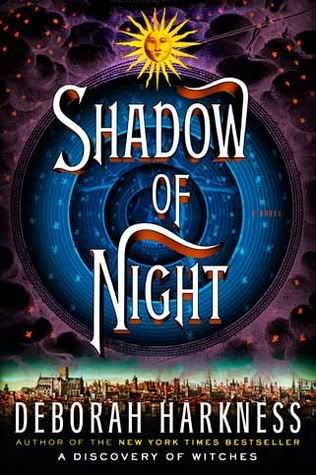 Shadow of Night
By: Deborah Harkness
ISBN: 978-0670023486
Series: All Souls Trilogy
A Discovery Of Witches
Shadow Of Night
The Book Of Life
Summary
via Amazon:
"Together we lifted our feet and stepped into the unknown"—the thrilling sequel to the New York Times bestseller A Discovery of Witches

Deborah Harkness exploded onto the literary scene with her debut novel,
A Discovery of Witches
, Book One of the magical
All Souls Trilogy
and an international publishing phenomenon. The novel introduced Diana Bishop, Oxford scholar and reluctant witch, and the handsome geneticist and vampire Matthew Clairmont; together they found themselves at the center of a supernatural battle over an enchanted manuscript known as Ashmole 782.
Now, picking up from
A Discovery of Witches'
cliffhanger ending,
Shadow of Night
plunges Diana and Matthew into Elizabethan London, a world of spies, subterfuge, and a coterie of Matthew's old friends, the mysterious School of Night that includes Christopher Marlowe and Walter Raleigh. Here, Diana must locate a witch to tutor her in magic, Matthew is forced to confront a past he thought he had put to rest, and the mystery of Ashmole 782 deepens.
Deborah Harkness has crafted a gripping journey through a world of alchemy, time travel, and magical discoveries, delivering one of the most hotly anticipated novels of the season.
Review
:
This book is fantastic! It has everything; Elizabethan intrigue, science, romance, and so much more.
A Discovery of Witches
pulled me in right away but
Shadow of Night
kept me enthralled. Alchemy, history and a witch trying so hard to not be a witch made a very dynamic and explosive character in Diana Bishop. She is so real at times while reading that it seems as if you could have met her in the dusty corners of a library.
The historical content is wonderfully spot on. One of the conflicts that I loved was, how even though she is a historian, she struggles with fitting in Elizabeth's England. That really shows how little we know, even though we know so much. As she goes along Diana really grows exponentially and Ms. Harkness really takes on some very serious perils that we all face but we never talk about. Some examples is the adjustment to married life, the idea of children (whether you can have them or not), the loss of a child, the loss of parents, etc. All these major conflicts and many more are covered in clear detail. The most difficult at times for many writers is the intimate emotional content which Ms. Harkness reveals like a master storyteller. You really feel for all the characters, so much so that I definitely cried for them and cheered for them at many times.
The characters in this and its predecessor are just so different, complicated, dynamic and yet still fun. My favorite new character is definitely Gallowglass. He is definitely my kind of vampire! Every time he showed up I felt like a crushing thirteen year old girl mooning over him. One of the best parts that made me crack up was this scene:
A two-foot tall, gold and silver statue of the goddess Diana sat between us, naked except for her quiver, riding sidesaddle on the back of a stag with her ankles demurely crossed. A pair of hunting dogs sat at her feet...
...A small key was embedded in the base. I gave it a turn, and the stag took off across the floor....
..."Is it a toy? Is it for me? Why is that lady not wearing any clothes? Isn't she cold?" The questions poured out of Jack in an unbroken torrent...
...Gallowglass peered at the statue's breasts "Aye, Jack. I'd say she's cold."
That scene had me cracking up so hard I could barely breathe. It was at a point in the story that really needed a bit of comic relief and was pulled off so brilliantly. I can easily say that if Deborah Harkness wanted to, she can easily turn this trilogy into quite the amazing series. I would be thrilled to read about the each and every one of the De Clermont clan and their adventures.
Honestly, there is no way you will not enjoy this book. There is just so much within this book that I can't even begin to cover it all. Diana travels through time and across Europe where she meets with queens and emperors to ladies and street urchins. You really get a very realistic trek through her and Matthew's world that it is just stunning and stimulating. Ms. Harkness even goes so far as to describe the smell of Elizabethan England and the feel of their clothes, while never losing the story's thread. This book has a very firm and well deserved five. Definitely get yourself the hardcover of this one and
A Discovery of Witches
because I can guarantee that not only will you want to read this one over and over but you will want to share it with everyone!