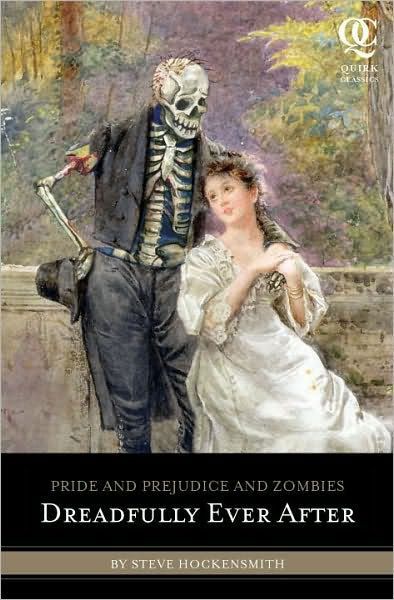 Dreadfully Ever After
By: Steve Hockensmith
ISBN: 978-1594745027
Series: Pride & Prejudice & Zombies Trilogy
Summary
:
When we last saw Elizabeth Bennet and Fitzwilliam Darcy—at the end of the New York Times best seller Pride and Prejudice and Zombies—they were preparing for a lifetime of wedded bliss. Yet the honeymoon has barely begun when poor Mr. Darcy is nipped by a rampaging dreadful. Elizabeth knows the only acceptable course of action is to promptly behead her husband (and then burn the corpse, just to be safe). But when she learns of a miracle antidote being developed in London, she realizes there may be one last chance to save her true love—and for everyone to live happily ever after.
Complete with romance, heartbreak, martial arts, cannibalism, and an army of shambling corpses, Dreadfully Ever After brings the story of Pride and Prejudice and Zombies to a thrilling conclusion.
Review
:
Dreadfully Ever After out shines the others completely as far as I am concerned. (Not Jane Austen, of course, but still great.) The reason this one is so amazing is that it is so well thought out, so clear and multi-leveled, you can read it over and over again, and every time gleam something new from its pages.
What also put this book on the map is that even without the zombies, it could stand on its own. Each and every character grew in a way that made sense while at the same time still being surprising. We are even privy to some of the Elizabeth's thoughts regarding her now much calmer married life and how her skills have influenced her new life as Mrs. Darcy.
We finally have answers to all of the hanging questions from the previous books, of which I felt there were many. The level of complexity in this story that we just didn't see in the previous books is astounding. There are themes we recognize but at the same time they are given a very different type of spin. You have a love story, unrequited love, lost love, etc. all of which we have come to expect from this type of story. The conflicts are just mind boggling and you really feel for Elizabeth as she tries to make sense of the world. What I didn't expect is the science fiction, the politics, the subterfuge, the twisted family history and so much more.
The Elizabeth Bennet we have known is an amazingly spunky woman but as she blossoms here in Mrs. Darcy, she becomes so much more. She becomes a hero I have been hoping for since the beginning. She defends her love, her family, and her life even as it goes so far beyond anything she could have ever imagined. We are even so fortunate as to have the whole Bennet family involved throughout the story in brand new ways. There are so many things with this book that just make it a joy to read. My darling readers you really just need to pick up a copy for yourselves. I just had to give this book a five because ladies and gentlemen, this story will knock your boots off. One second you think you know what is going on and the next its not even close.
Happy Reading and here's the book trailer for Dreadfully Ever After to enjoy!