The Secret Life Of Emily Dickinson
By: Jerome Charyn
ISBN: 9780393339178
Summary
via GoodReads:
What if the old maid of Amherst wasn't an old maid at all? Her older brother, Austin, spoke of Emily as his "wild sister." Jerome Charyn, continuing his exploration of American history through fiction, has written a startling novel about Emily Dickinson in her own voice, with all its characteristic modulations that he learned from her letters and poems. The poet dons a hundred veils, alternately playing wounded lover, penitent, and female devil. We meet the significant characters of her life, including her tempestuous sister-in-law, Susan Gilbert; her brooding father, Edward; and the Reverend Charles Wadsworth, who may have inspired some of her greatest letters and poems. Charyn has also invented characters, including an impoverished fellow student at Mount Holyoke Female Seminary, who will betray her; and a handyman named Tom, who will obsess Emily throughout her life. Charyn has written an extraordinary adventure that will disturb and delight.
Review
:
I simply adored this book almost as much as I adore Emily Dickinson's poems. Jerome Charyn really did a wonderful job capturing Ms. Dickinson as a bearer of many masks as her poems often suggest she was. This is not a fast paced book but at the same time its has a cadence that is steady and nice. I like how he went over her whole life and didn't try to paint her as a saint. Many times writers try to saint-ify classic writers rather than appreciate them with all their faults, for their faults are often how they came by their best work.
My only major dislike in this book is that included none of her works. Which I suppose was because he wanted to focus on her life not her work but still having that additional connection would have been lovely. Overall, I give this book a four due to the above reason. His separation of her life from her work was a poor choice because as the book says many times her work was a large part of her life and identity.
Jerome Charyn's Bio
:
Jerome Charyn (born May 13, 1937) is an award-winning American author. With nearly 50 published works, Charyn has earned a long-standing reputation as an inventive and prolific chronicler of real and imagined American life. Michael Chabon calls him "one of the most important writers in American literature."
New York Newsday hailed Charyn as "a contemporary American Balzac," and the Los Angeles Times described him as "absolutely unique among American writers."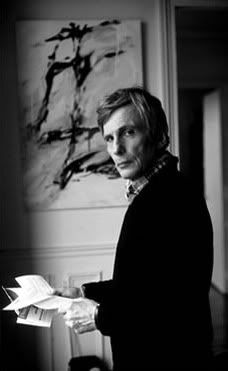 Since the 1964 release of Charyn's first novel, Once Upon a Droshky, he has published 30 novels, three memoirs, eight graphic novels, two books about film, short stories, plays and works of non-fiction. Two of his memoirs were named New York Times Book of the Year. Charyn has been a finalist for the PEN/Faulkner Award for Fiction. He received the Rosenthal Award from the American Academy of Arts and Letters and has been named Commander of Arts and Letters by the French Minister of Culture.
Charyn was Distinguished Professor of Film Studies at the American University of Paris until he left teaching in 2009.
In addition to his writing and teaching, Charyn is a tournament table tennis player, once ranked in the top 10 percent of players in France. Noted novelist Don DeLillo called Charyn's book on table tennis, Sizzling Chops and Devilish Spins, "The Sun Also Rises of ping-pong."
Charyn lives in Paris and New York City.
Awards: BookReporter.com's Top Books of 2010 (#52)